Years ago I fell in love with a Highland Policeman and his town of Lochdubh. Constable Hamish Macbeth is the sole policeman of a wee town in the Scottish Highlands and he likes it that way. With a mind like his he should have been promoted out of the area to a big city ages ago, but he's having none of it. With his best pal T.V. John Mackeever he keeps the promotions at bay, by letting aspiring detectives take all the credit for his cleverness.
T.V. John is his police helper, a jack of all trades and with a touch of the sight added in. It is said that until he smells hair pomade he knows his death is far away.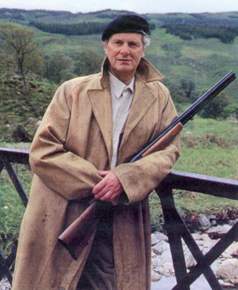 The town is full of characters:
Laclan McCrae and Lachie Junior
a father/son duo hilarious in their ineptitude.Any money scheme has this duo behind it.
Agnes and Barney
They run the Stag bar and are the center of all goings on.
Rory and Esme
A late in life fiery romance between the grocer and the schoolmistress. Always a witty comment from Rory.
Alex, Hamish's first romance on the show, a headstrong rich girl playing with the local bobby's heart.
Isobel, the unrequited love of Hamish. A fiesty newswoman, not afraid to speak her mind.
Wee Jock, Hamish's constant companion.
What a cast and what writers! I hope you give the show a try, and watch twice if you miss something in their Scottish Brogue. Here's the link:
https://www.youtube.com/watch?v=bMW7I9WHHQQ&list=PLfrAXbPeUkShzjQHtM6aBfBO7k0DNYMKu